---
Roy Charman's Script for 'Aliens'
---
Script used by Roy Charman, production sound mixer on Aliens. Roy was nominated for an Oscar in 1986 for Aliens. In 1980 he won his second Oscar for his work on Raiders of the Lost Ark, his first Oscar had been awarded 14 years earlier for his debut feauture film, Grand Prix in 1966. Further nominations were awarded in 1974 for the Wind and the Lion, and 1977 for Superman the Movie.
His other fantasy film related credits include Legend (1984), Superman II and Superman III.
This script is numbered "67" in silver pen on both the cover and inside page 1. It is the final draft, dated Spetember 1985. It contains diaglogue changes in blue pen along with slate numbers and doodles.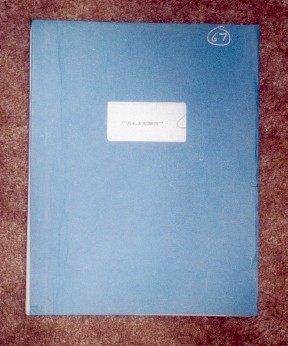 Scenes in this script that are not in the film
5 INT CORRIDOR - GATEWAY
7 INT CORRIDOR
15 INT TRACTOR (beginning only)
31 INT SHOWERS (this scene was amalgamated into the dressing scenes)
76A INT OFFICE (Ripley and Hicks chat before going to the A.P., Newt bites Hicks again)
92 (Frost has one line of dialogue not in the film)
(Note: 50 INT. HOLD - APC. Frost's off screen voice over whilst in the APC during the drop is not in the script, the reply "you always say that Frost, you always have a bad feeling about this drop" could be from either Wiezbowski or Crowe who have no other lines in the film, it could conceivably have been recorded by a voice orver artiste.)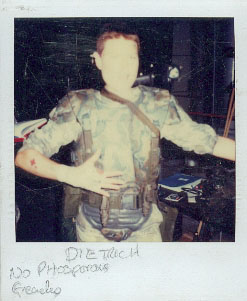 A similar script seen on set (on the table behind Dietrich).
---
Title Page   | |  Home  | |  Artifacts  | |  Latest Pages  | |  Interviews
Website design and certain images © 2000 Aliens Archive. Terms of Use.